In Tokyo, W&DW boosts livelihoods for Asia-Pacific authors, screenwriters and directors with MoU and Asia-Pacific alliance
Asia-Pacific is ripe for growth for creators and cultural industries, particularly screenwriters and directors. While Australia collects a significant amount from TV and radio for the audiovisual artistic repertoire, according to CISAC's 2018 Global Collections Report, the rest of the region shows great additional potential if laws are improved and new societies created.
Writers & Directors Worldwide (W&DW) along with its alliances ADAL and APASER landed in Tokyo for W&DW Executive Committee meetings and discuss directly with the region's guilds on May 27th and 28th. The meetings were held prior to the CISAC General Assembly, which unites collective management organisations from around the globe once a year.
Guilds from across Asia-Pacific met with the committee, opened by Directors Guild of Japan (DGJ) President Sai Yoichi, in order to detail challenges and situations creators face in their territories. This included DGJ, Writers Guild of Japan, Australian Directors Guild, Australian Screen Directors Authorship Collecting Society, Australian Writers' Guild Authorship Collecting Society, Directors and Editors Guild of New Zealand, and Directors Guild of Korea.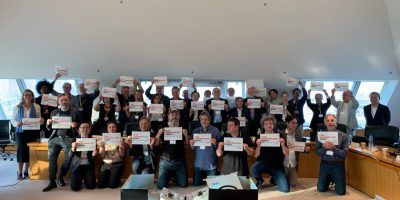 On May 28th, W&DW launched the Alliance of Asia-Pacific Audiovisual Writers and Directors (APAA). APAA is a regional alliance dedicated to being the independent, impartial advocate for Asia-Pacific audiovisual creators. It seeks to strengthen copyright protections and further creators' interests in the region. APAA joins APASER for Africa and ADAL for Latin America as the council's regional alliances.
Furthermore, the council signed a Memorandum of Understanding (MoU) with the Directors Guild of Korea (DGK). Signed by Yves Nilly and DGK President Min Kyu-dong, the organisations agreed to foster closer cooperation to strengthen copyright protections in Korea, invite DGK members to W&DW activities as well as work together on further establishing APAA.
Finally, W&DW passed three resolutions supporting creators in New Zealand, Japan and Korea. W&DW urged New Zealand to assign economic rights for audiovisual authors as it undergoes a review of its copyright law. The country currently only recognises moral rights. W&DW also passed a resolution encouraging Japan to modernise its copyright law to recognise directors as authors, ensuring them to have a right to fair and unwaivable remuneration for the use of their works and managed by collective management organisations.
Finally, a resolution was passed calling upon the Korean government and its General Assembly to update the country's copyright act to recognise directors and screenwriters as authors to audiovisual works. It seeks to ensure an unwaivable economic right to be fairly remunerated for the use of their works, managed collectively by collective management organisations.